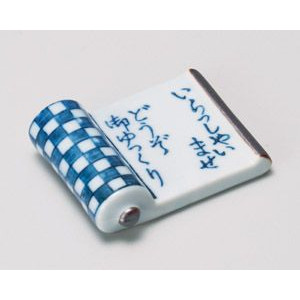 Chopstick Rest Handscroll
Dispatch within 3-5 business days
The fancy chopstick rest of hand scroll is a piece of Mino Ware. Handscroll, called Makimono in Japanese, presents a letter or an artwork of painting. Hand scroll was used in old times when Samurai lived.
On this chopstick rest of handscroll you can read a tiny message written, saying 'Irasshai Mase. Douzo Goyukkuri' in Japanese. It means 'Welcome. Please relax and feel at home'.
Mino Ware, aka MinoYaki is a type of traditional Japanese porcelain wares made Gifu Prefecture, north of Tokyo. Mino Ware is a ceramic ware representing 50% share in the Japanese market. Originated in the time of unglazed ceramic ware.
Product Details of Chopstick Rest Handscroll
---
Content: 1 chopstick rest
Size: W4.8cm (W1.9″)
Type of ware: Mino Ware
Made in: Gifu Prefecture
---