7 popular shrines -Kansai-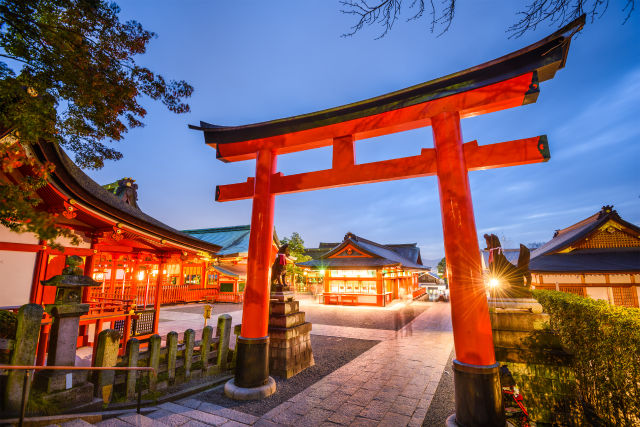 There are many shrines in Japan.
Among them, we will introduce the most popular Kansai shrines.
If you ever visit near Osaka or Kyoto, make sure to visit.
Ise Shrine (Ise City, Mie Prefecture)

It is a truly solemn place where you feel a holy presence.
Ordinary shrines have fortune-telling items like omikuji, but Ise Shrine does not. Simply being able to visit means great luck.
The feeling of the trees that are hundreds of years old after the rain settles is one the you can only experience at Ise Shrine.
The atmosphere is different inside and outside the shrine. Ise Shrine is said to only invite those with money and health (or allows only those), so if you decide to go, please visit and enjoy the divine atmosphere.
Ogami Shrine (Sakurai City, Nara Prefecture)

It is the oldest shrine in Japan.
Located at the foot of the spiritual Mt. Miwa, which is believed to have a god in every plant and tree, Ogami Shrine is a shrine that does not have a main shrine, but instead uses this mountain as its location.
The worship hall rebuilt by the 4th shogun Tokugawa Kazuna is a magnificent building with a strong presence that has a cultivated style.
Ogami Shrine is of course wonderful, but it's a waste if you also don't visit the surrounding shrines and structures.
Definitely go for a visit.
Todaiji (Nara City, Nara Prefecture)

Not only is size of the Buddha overwhelming, there is also the majesty of the Great Buddha Hall, and you will feel the weight of this shrine's history. Most of all, it is powerful and magnificent and will cleanse your heart.
However, one thing to note is that there are many deer in Todaiji.
There are deer everywhere, and they may come from behind suddenly. Also, since there is a lot of feces, it is necessary to walk with care not to step on it.
This is a place we would like you to visit once because we think that you can have a different experience from other shrines.
Rurikoin (Kyoto City, Kyoto Prefecture)

It is a beautiful place where the red fallen leaves are quite beautiful.
The autumn crimson leaves are wonderful, and the autumn leaves reflected on the shiny polished sutra desk are more overwhelming after the leaves have changed their color.
However, it is only available for a limited time, so please check before you go.
In addition, because it is a very popular place, numbered tickets are distributed before you buy tickets and the time is specified, so please be careful.
Enkoji (Kyoto City, Kyoto Prefecture)

The peak of autumn leaves is around the end of November to the beginning of December.
The temple and garden are small, and you can climb the back mountain to see the autumn colors and the streets of Kyoto.
Because it is a little-known place partly because the transportation is inconvenient, it should be a place where you can enjoy some peace and quiet. It's beautiful not only in the autumn but also in the green season, so please go visit.
Eikando Zenrinji (Kyoto City, Kyoto Prefecture)

Zenrinji is the main temple of the "Jodo Buddhism Nishiyama Zenrinji School". The official name is Zenrinji. The statue of Amida Nyorai in the main hall is called "Mikaeri Amida," with its face facing diagonally behind. It is so famous for its autumn foliage that Eikando is said to be the go-to spot for it. There are also blue autumn leaves amongst the red and yellow leaves, and the contrast is wonderful. It takes about an hour and a half to slowly tour around the temple and pond. At night, it is lit up and is very beautiful.
The blue trees are nice, but the autumn leaves are still the most recommended.
Please enjoy the beautiful scenery.
Sanjusangendo (Kyoto City, Kyoto Prefecture)

There are many Senju Kannon statues in Sanjusangendo, and the current number is 1001. The admission fee is 600 yen, but we think it's worth the price.
Once you enter the room that is long sideways, you will be overwhelmed by the number and size of the rooms, and at the same time you will lose your words due to its majestic appearance. The wind god, thunder god, and Nijuuhachibushu are designated as national treasures. The wind god and thunder god are placed on the left and right sides of the hall, and the Nijuuhachibushu are placed in front of the Kannon statue and on the four sides of the Chuson. There are detailed descriptions in English as well so please read them.
It's a wonderful place that will make you think of various things.
How was it? We're sure you've found a shrine that interests you.
We don't know when the current world will settle down, but when it does, please visit. Also, we hope this article will give you a fresh feeling as if you were traveling to Japan.