Okamoto 003 Hyaluronic Acid + Condom is one of the Okamoto 003 Condom series. It is a natural latex condom from Okamoto, one of the top selling Japanese condom brands, famous for its broad lineup and high-end technology.
Okamoto 003 Hyaluronic Acid + contains, as name explains, Hyaluronic Acid in aqueous lubricant, giving smoothness and moisture during insertion.
Okamoto 003 series is as thin as 0.03mm, yet very flexible and durable. It brings your hearts closer when making love.
Characteristics of Okamoto 003 Hyaluronic Acid + Condom
---
 1. Even Thinness

Ordinary condoms become thicker as it goes to the top edge. Okamoto thinks the thinner top edge will give a better feeling and uses its high-end technology to enable its condom to have even thinness from top edge to bottom edge. This is why Okamoto 003 feels as if you are not using it.
2. Very Thin!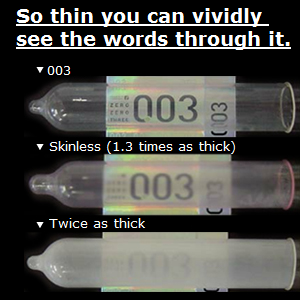 Okamoto 003 is so thin that you can clearly see the words through it. Feel and wear it, and you'll be surprised how thin they are. It feels as if you're not wearing it.
3. Durable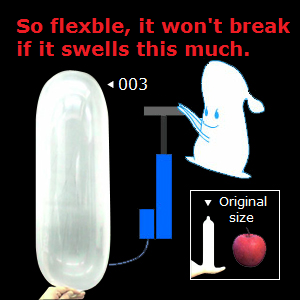 Okamoto 003 is so durable that it won't break as it balloons out this much.
4. Flexible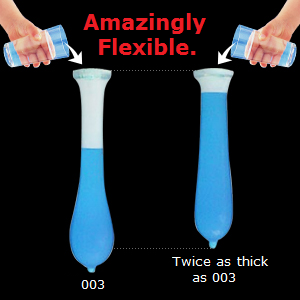 Okamoto 003 flexibly stretches out and fits to your penis, which is evident when you pour water into it!
Product Details of Okamoto 003 Hyaluronic Acid + Condom
---
Material: Natural Rubber Latex
Content: 10 Pieces
Made in Japan
The condoms can only be worn once per item. Please use a new condom each time.
Keep in a cool, dark place while in the packaging box. Also, do not store with volatile substances such as insect repellents.
Proper use of condoms is effective for contraception and reduces the risk of getting many sexually transmitted diseases including AIDS, but does not guarantee 100% efficacy.
Depending on the person who uses it, it may cause allergic symptoms. In that case, please discontinue use and consult with your doctor. Our shop will not take any responsibility.
Only logged in customers who have purchased this product may leave a review.
---