7 scenic hot springs in Japan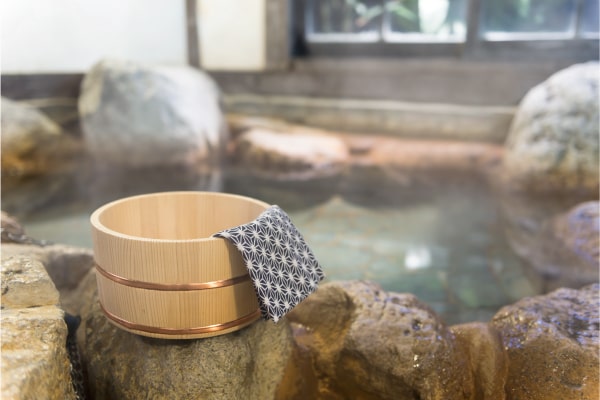 Atami Onsen (Shizuoka)
Quote : https://atami.ooedoonsen.jp/
More than anything, Atami Onsen has great access!
Atami Onsen in Atami City, Shizuoka Prefecture is one of the three major hot springs in Japan.
It is popular for its easy access of 45 minutes by Shinkansen from Tokyo.
Boasting a generous amount of water, its mild alkaline water is gentle on the skin, making it a popular choice by women as well.
You can walk around and eat delicious foods that receive the blessings of Sagami Bay in the onsen town, use footbaths, and enjoy other various activities.
If you got to Atami that's full of charm, then you will surely be able to spend time sightseeing without getting bored!
Yufuin (Oita)
Quote : http://www.yufuin.gr.jp/
Yufuin is located in the center of Oita Prefecture.
Yufumi Street, which extends from Yufuin Station to the hot spring area, is lined with stylish cafes and general stores, making it a great place to take a walk around.
Also, there are no red-light districts that are often found in hot-spring areas, which would explain why it's popular among women as well.
As you pass through the bustling hot spring town, you will find a bunch of accommodations surrounded by nature.
You will surely be fascinated by the luxurious inn of Yufuin, which boasts the number one spot of all of Kyushu's hot springs!
Beppu Onsen (Oita)
Quote : http://www.gokuraku-jigoku-beppu.com/entries/complete-guide-otherquality
This is another hot spring in Oita Prefecture.
Beppu Onsen is a hot spring town centered around Beppu City, Oita Prefecture.
As a representative of hot spring towns, there are many hot springs with various qualities.
"Jigoku Meguri" ("Hell tour") is a popular way to sightsee the amazing wonders of the spring source, and among them, "Chi-no-ike Jigoku" ("Blood pond hell" is Japan's oldest natural spring source that has existed for more than 1,300 years.
Hell tours is simply about going around hot springs, right? Is it interesting? Some of you must be thinking this, but please definitely give it a try.
We think that you will have quite a lot of fun, as if you are visiting a theme park.
However, since each one is far away, it may be more convenient to have a car.
In 2009, it was designated a national scenic spot.
Beppu Onsen is close to the station and there are many sightseeing spots so it will make for a great trip.
Arima Onsen (Hyogo)
Quote : http://www.arima-onsen.com/
Arima Onsen, located in Kobe City, Hyogo Prefecture, is one of Japan's three oldest hot springs.
It is one of the most famous hot springs named in The Pillow Book, and one of the hot springs loved by Taiko Hideyoshi, as well being known for the red latticed "Taikobashi" located at the entrance of the hot spring town, and fully displays its history.
Despite being less than an hour from Kobe and Osaka, the hot spring town is located at a deep mountain range of 350m to 500m, with narrow roads and steep slopes.
You will enjoy a trip that lets you feel its history while also healing you at the same time.
Shirosaki Onsen (Hyogo)
Quote : http://www.kinosaki-spa.gr.jp/information/yumeguri/4.html
This is also a nice hot spring in Hyogo prefecture.
Shirosaki Onsen, located in Shirosaki-cho, Toyooka City, Hyogo Prefecture, is a hot spring with a history of 1300 years.
Yanagi trees are lined up like a tunnel along the Otani River, which flows along the hot springs, and many people who visit the 7 hot springs in yukata along with Taiko Bridge and wooden inns bring out the harmony in the hot spring town.
There are many places to enjoy, such as Kiyamachi-Kouji and Shirosaki Ropeway in the middle of the hot spring town!
Okuhida Onsen Village (Gifu)
Quote : https://www.okuhida.or.jp/image
Okuhida Onsen Village is home to five hot spring areas (Hirayu Onsen, Fukuchi Onsen, Shinhirayu Onsen, Tochio Onsen, Shinhotaka Onsen) in Takayama City, Gifu Prefecture.
The scenery of the outdoor bath, which is said to be the best in Japan, is located in the great nature surrounded by the Northern Alps (famous peaks such as Mount Norikura, Mount Kasagatake, and Hotaka Mountains).
The scenery that changes according to the four seasons is also beautiful, and especially in autumn, it is a beauty that is also selected in the "33 Hida / Mino Autumn Leaves Selection".
Why don't you enjoy the good old Japanese atmosphere in the Okuhida Onsen Village in the mountains?
Gero Onsen (Gifu)
Quote : http://www.gero-spa.or.jp/
Another introduction to hot springs in Gifu Prefecture.
Gifu Prefecture has many wonderful hot springs.
Next up is Gero Onsen.
Gero Onsen, located in Gero City, Gifu Prefecture, is one of Japan's three great springs.
The center of the hot spring town is Hida River, where inns are located mainly along the river.
In addition, there is a unisex outdoor bath called "Funsenike" along the river, which is a symbol of Gero Onsen.
During walks, there are also foot baths where you can take a break easily, which is helpful.