A must-see read for those visiting Japan! 5 hidden, spectacular landscapes in Japan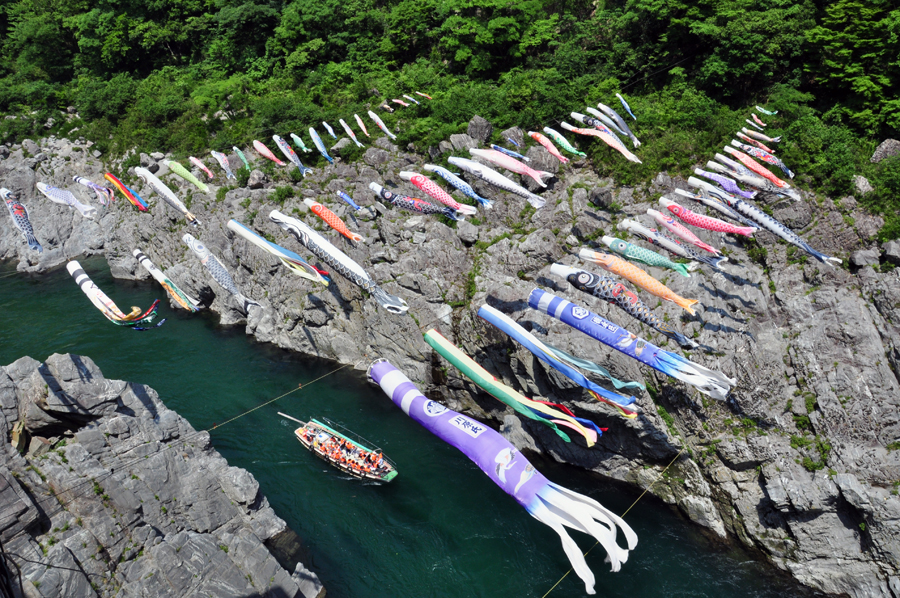 There are some superb landscapes that are very beautiful but are not well known.
We would like to introduce these "minor" places where you can see such superb views, and hope that you can enjoy sightseeing in Japan even more.
Swarm of carp streamers fluttering in the secret region of Shikoku
Obokekyo (Miyoshi City, Tokushima Prefecture)
https://www.mannaka.co.jp/index.html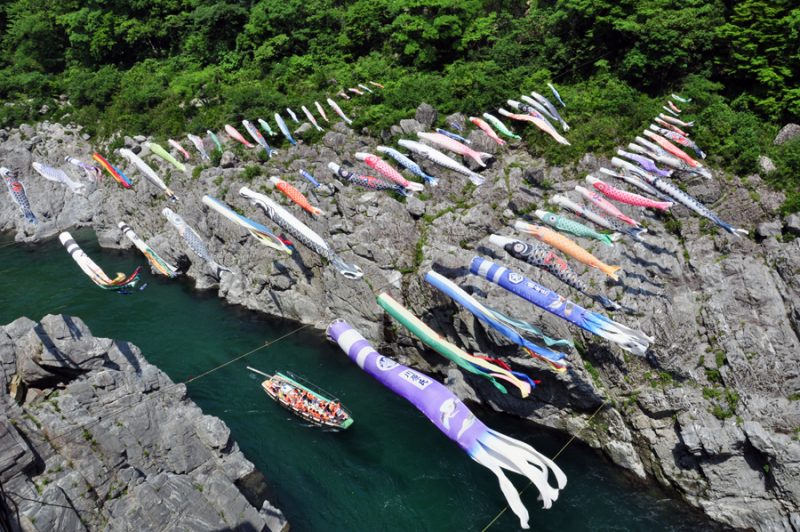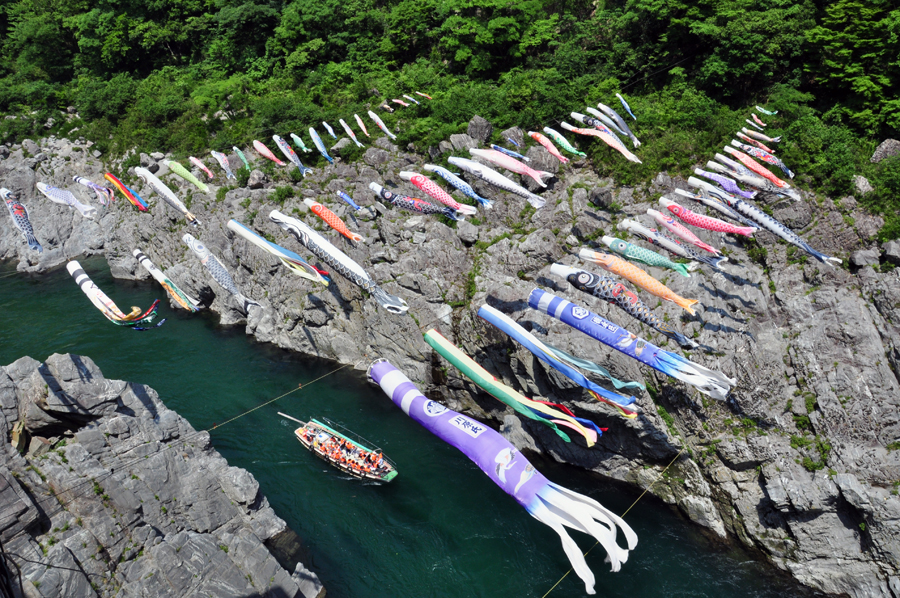 We quote it from "https://www.mannaka.co.jp/index.html"
Obokekyo is a large valley with a total length of about 8 km, created the eroding of mountains due to the rapid flow of the Yoshino River.
The rocky cliffs seen from the river cruise are natural monuments of the country. In addition to crossing vine suspension bridges and rafting down torrents, you can see more than a hundred carp streamers fluttering over the river in early May.
In the beginning of May, you can see a lot of carp streamers swimming comfortably in the sky. Beware of the date when you go!
Eat eel and watch the sunset over the desert
Nakatajima Sakyu (Hamamatsu City, Shizuoka Prefecture)
https://www.jalan.net/kankou/spt_guide000000183468/
Nakatajima Sakyu, which is adjacent to the Enshunada Sea, west of Lake Hamana, famous for its eels, is said to be one of Japan's three largest dunes. The dunes are also used as a location for TV dramas and movies, and the "wind ripples" that change its expression every moment depending on the strength and direction of the wind, as well as the setting sun in the background, are truly spectacular.
From June to August, you can also observe loggerhead turtles laying eggs if you're lucky.
Mystical cave cafe
Cave Cafe (Nanjo City, Okinawa Prefecture)
http://www.gangala.com/cave-cafe/

We quote it from "http://www.gangala.com/cave-cafe/"
"Gangala Valley", a 30-minute drive south of Naha City, is a valley formed by the collapse of a limestone cave. We recommend Cave Cafe located at the entrance. As the name suggests, the limestone cave has retained its natural state as a café, and there are regularly live performances utilizing its acoustic space.
In addition, "Gangala Valley" at the back of Cave Cafe is a reservation-only tour area, so don't forget to make a reservation.
Get lost in the movie world! A spa that has continued since the Edo period 
Shima Onsen Sekizenkan (Gunma Prefecture)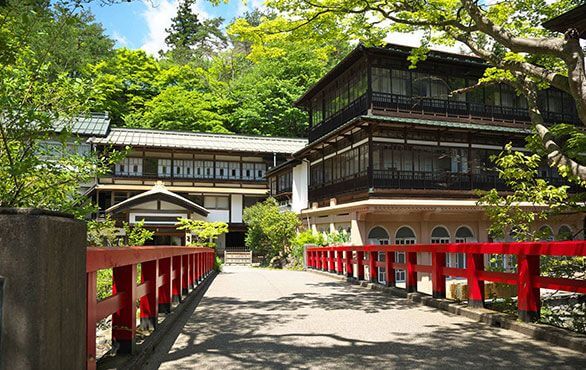 We quote it from "https://www.sekizenkan.co.jp/"
Sekizenkan, Shima Onsen, Gunma Prefecture, is said to be one of the models of the hot spring inn "Aburaya" that was the setting for the popular Ghibli movie "Spirited Away". When you cross the impressive bridge with red balustrades, you will find the main wooden building, which was built in 1691, and it is designated as a cultural property that will make you feel like you have lost your way into a movie. In addition, the Shima Onsen hot water is not only gentle on the skin, but drinking it is also effective against gastrointestinal diseases.
It should be an irresistible place for those who like Ghibli.
Moreover, it is recommended because it not only makes your heart dance because you become mesmerized by the movie world, but it also has a health benefits.
Kumo no ue no Cafe (Cafe on the clouds)
Unkai Terrace (Hoshino Resorts Tomamu, Yufutsu-gun, Hokkaido Prefecture)
https://www.snowtomamu.jp/summer/unkai/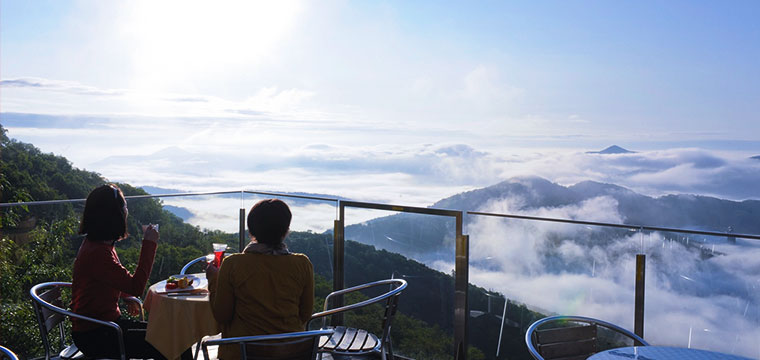 We quote it from "https://www.snowtomamu.jp/summer/restaurant/tenbou.php"
Do you know the natural phenomenon called "sea of clouds"?
Hoshino Resort Tomamu in Hokkaido is a valuable spot where you can see the sea of clouds like a waterfall, where clouds generated in the Pacific Ocean flow over the mountains.
The Unkai Terrace overlooks such sea of clouds below, allowing you to enjoy a spectacular view while sipping your coffee. The period during which you can see the sea of clouds is limited, so you need to do preliminary research in advance, but since it is a very rare and unique phenomenon, we really hope you get a chance to witness it.
What did you think?
There are not many magnificent spectacles that can be seen all year round, but perhaps the fact that the season or days that they can be viewed is rare, is what makes them all the more impressive.
If you want to go experience this amazing occasion, we highly encourage you to do preliminary research beforehand.
Please go and enjoy the superb views.