Reason why Fuji Latex "SKYN" is recommended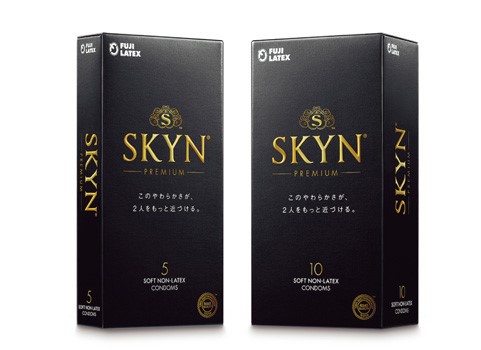 "Wearing it is the testimony of love"-. As such, "condoms" are a common concern between men and women. Recently, thinness such as "0.01 mm thinness!" has been particularly noted, but according to the industry, the competition among companies has resulted in "stop at 0.01 mm; if it is thinner than that, the strength will always be compromised". Therefore, the main topic of condoms recently has centered around not the thinness, but rather the functionality of the condoms. With this said, we would like to introduce "SKYN (R)" (Fuji Latex) in this article!
The feature of "SKYN" is that it uses a material called "iR" (isoprene rubber). Most condoms were made with natural rubber or urethane, but iR is significant softer, and is even used for medical use. "SKYN" apparently boasts the world's number 1 share, including countries like the United States! Most of all, the "feels good for two people" catchphrase is of particular interest. What kind of condom is SKYN? Let's dive into this topic!

Package with a sense of quality that is easy for even women to buy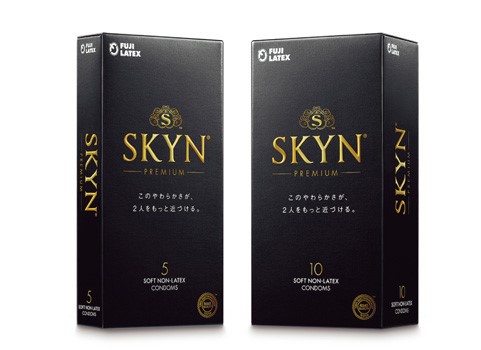 Both the box and the contents are designed with black and gold colors and there is a sense of luxury. The black-package "SKYN" seems to be easy for even women to buy. Let's now take a look at the contents.
Texture, softness
It looks the same as any other regular condom, but may be rather bulky ...? This was our first impression. What becomes apparent after checking the thinness is that it is a very soft and slippery material. The "super thin urethane" that is 0.01 mm, which as become the new norm for condoms, is a bit tough in order to make it thin yet durable. On the other hand "SKYN" is very thin and soft. In terms of softness, the palm of the hand is A15, tires are A65, and urethane condoms are A60, whereas "SKIN" comes in at A29. It is thus close to real human skin.
No worry of rubber allergy
And this product feels like a surgical glove. The iR used in SKYN is also used as a material for surgical gloves and nipple part for baby bottles. This is a material that does not contain ingredients that cause rubber allergy, so there is no concern about allergy. This is definitely something to be thankful of.
No stiffness!
Last but not least is the actual feel when it is put on, but what stands out is that "it is so stretchy" as everybody says. The way it contorts is completely different from that of other materials. With a little bit of strength it stretches a little, and when more force is applied it feels like it stretches out at once. In other words, it latches on very tight when simply worn, but it is an interesting material that exhibits its true flexibility when force is applied. If you're looking for thermal conductivity you should wear a thin condom, but if you are looking for a great fit you should probably go with SKYN. The standard of "softness" which we do not always think of - it may actually be more important than thinness.
The catchphrase "feels good for two people" is something of interest, but the reason why it feels good for women is because of not only its softness, but also because the safe rubber that