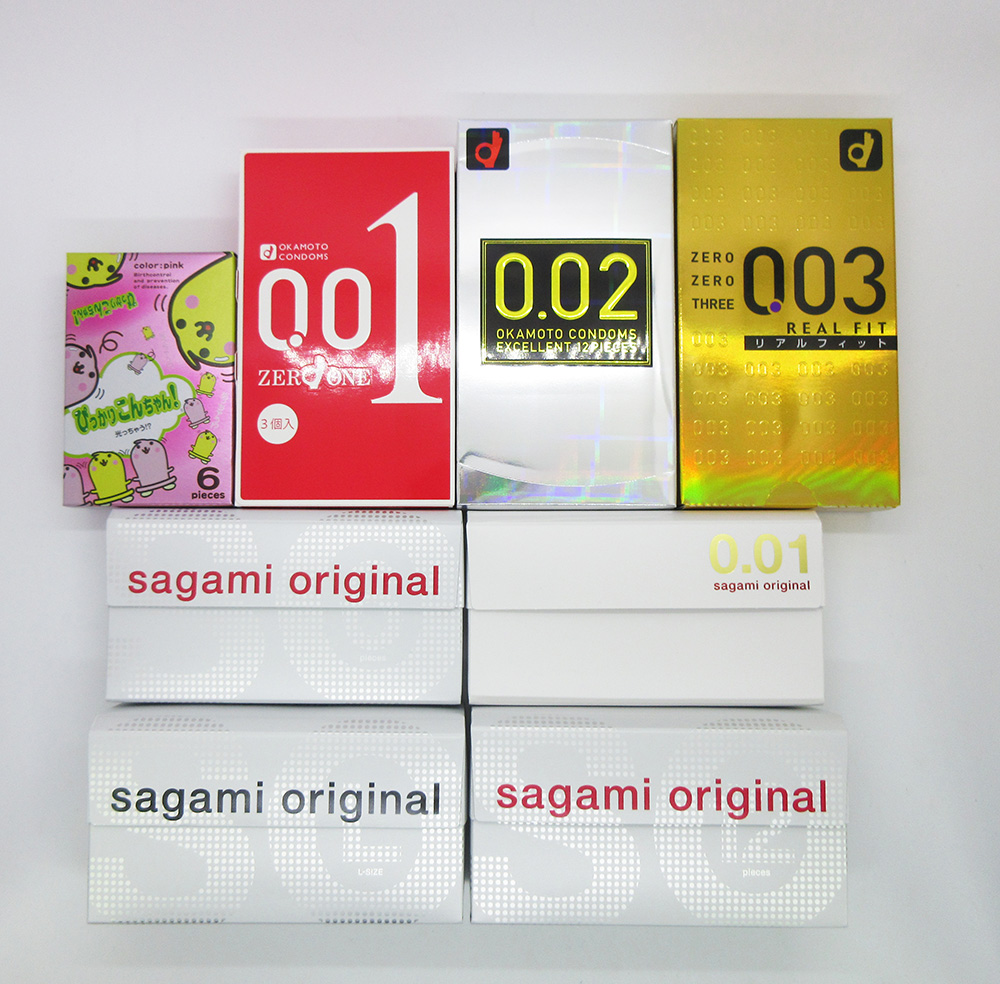 All From Japan will touch on what everybody is curious about when purchasing condoms – "size"!
What is the size of condoms? Can big sizes fit small sizes? Of course not! With the right knowledge and sober judgment, loving partners can protect each other. So, let me spread some information about the size of condoms.
The first step in picking condoms…is "size"!
Everyone, what do you care about when choosing a condom? The manufacturer? Thickness? Of course, it is important to choose a reliable manufacturer, and it is important to stick to the thickness and thinness you like, but what is most important in choosing a condom is actually "size".
What is a condom size?
Now, I bet that many of you think that the size refers to the "length".
In fact, condoms are mainly divided by thickness and size. There are variations depending on manufacturers and products, but there are the S size (about 3.1 cm), M size (about 3.3 cm), L size (about 3.8 cm), and XL size (about 4.5 cm).
In one survey, 45% of respondents said that they have used a wrong sized condom in the last three months. Why is this?
First of all, there may be people who do not know their size and believe that they are the standard M size.
In such a case, it is better to measure the circumference of the thickest part of the penis using a measurer.
Check your size referring to the S size (about 9.7 to 10.0 cm), M size (about 10.6 to 11.3 cm), L size (about 11.9 to 13.1 cm) and XL size (about 13.8 to 17.8 cm).
At All From Japan, we mainly deal with the M size and L size!
Below is a list of sizes.
M size
Glamorous Butterfly Strawberry Condom 6 pcs
Glamorous Butterfly Hot Condom 12pcs
Glamorous Butterfly Moist Type 12pcs
Okamoto 003 Hyaluronic Acid + Condom 10pcs
Sagami Original 0.02 Condom 20pcs
Sagami Original 0.01 Condom 5pcs
Okamoto 0.02 Grand Fit Condoms 6pcs Looser Top Edge
Okamoto 003 Smooth Powder Condom 10pcs
Sagami Original 0.02 Condom 10pcs
Okamoto 0.02 EX Condoms 6 or 12pcs
Okamoto 003 Real Fit Condom 10pcs
Okamoto 003 Aloe Jelly Condom 10pcs
Okamoto 0.01 Zero One Condom 3pcs
Sagami Original 0.02 Condom 6pcs
Glamorous Butterfly 003 Hot Jelly 10pcs
Okamoto 0.01 Zero One Jelly Condom 3pcs
Sagami Keith Haring dot condom 1000 10pcs
Soft On-Demand 0.03 condom Premium super real
iX 0.02 condom 6pcs or 12pcs
Sagami Original 0.02 Quick Condom 5pcs
Sagami Jelly Push condom 5pcs
Fuji Latex SKYN Original iR Premium Soft Condom 10pcs
Fuji Latex Rincle zero zero 1500 0.03 condom 12pcs
Fuji Latex Rincle zero zero Black 0.03 condom 12+4pcs
Rirakkuma Condom 2013 Love Love Hot 10pcs
Okamoto 0.02 EX Condoms 24pcs
Flash Condom Pikkarinko Chan 6pcs
Lemonade Condom Ramune Dot 5pcs
Glamorous Butterfly Chocolate Condom 6 pcs
Okamoto 003 HOT Jelly Condom 10pcs
Okamoto 003 Color Condom 12pcs [3 Colors]
Okamoto 0.02 EX PINK 6pcs
Okamoto 0.02 EX Color Condom 6pcs [3 Colors]
Okamoto BENETTON 1000-X Condom 12pcs
Okamoto New GOKU-ATSU (Super Thick 0.1mm) for Long Play 12pcs
Okamoto New GOKU-ATSU (Super Thick 0.1mm) for Long Play 12pcs
Okamoto 003 Condom Standard 12pcs
Mecha Usu 1000 Condom Moist Jelly 36 pcs
Usupita Dot Condom 3 Kinds Pack 36 pcs
Sagami 0.09 Super Dot Condom for Long Play 10pcs
L size
Sagami Original 0.02 Condom Large 10 pcs
Okamoto 003 Large Size Condom 10pcs
Okamoto 0.02 EX LARGE Size Condoms 6 or 12pcs
Fuji Latex SKYN Original iR Premium Soft Large Size Condom 10pcs
Fuji Latex SKYN Original iR Premium Soft Large Size Condom 10pcs
iX 0.02 condom Large Size 6pcs
Okamoto 0.01 Zero One Large Size Condom 3pcs
Okamoto Super Big Boy 37mm 12pcs